I was invited to speak this Sunday at the Public Affairs Forum at the First Unitarian Universalist Church of Austin   – 4700 Grover Avenue  Austin, TX 78756, (512) 452-6168. Forums start at 11:30 and last for one hour.
I expect to have fun and hope you will join me.
Here's the program announcement:
Karen Kreps is Austin's own version of Carrie Bradshaw, Ann Landers and Dr. Ruth. She is the author of Intimacies: Secrets of Love, Sex & Romance. She'll share recollections and anecdotes from her seven years writing candid explorations of personal relationships, which appeared in a popular column published by The Good Life magazine (until the publication folded last year), and hosting public discussions about lovers and lust at BookPeople. She will address people's Number One questions about relationships and encouraging audience questions and comments. No charge, just bring an open mind and a sense of humor.

June 13, 2010
11:30 am to 12:30 pm
4700 Grover Avenue
Austin, TX

Submit your Number One question and learn more about her book at TrueIntimacies.com

Karen has a Master of Arts Degree in Cinema Studies from New York University and works as an independent producer of creative web content, blogging about technology and social media at NetIngenuity.com
Twitter: For those who would like to Tweet about this event, the hash tag is #intimacies
The talk  will be broadcast on ChannelAustin, channel 10.  (Public Access TV), http://www.channelaustin.org. The times are TBA. I expect to get a copy of the recording and will post it on the web for remote viewing.
Intimacies: Secrets of Love, Sex & Romance by Karen Kreps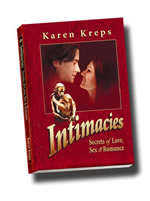 Buy the book for yourself, someone you love or a friend who could use it.
Since 2002, minds have been opened by Karen Kreps's insights about love and lovers, shared over seven years in monthly columns for The Good Life magazine and the public conversation group that met monthly  at BookPeople to discuss these personal topics.   Her book, Intimacies: Secrets of Love, Sex & Romance, contains a collection of her columns and is illustrated with photographs of figurative sculpture by her husband, Arye Shapiro.
Karen is an advocate for giving voice to what needs to be said, even it it breaks a taboo or two. Read her blog below, ask her a question and download her free ebook, Choice Intimacies, and get satisfaction between the covers of her book.
The Intimacies Conversation Group meetings, hosted monthly by Karen Kreps, 2002-Jan 2009, was sponsored by

At our last meeting, on Jan 21, we talked about
It was our final meeting at BookPeople  after a seven-year run, since our sponsor, The Good Life magazine, has ceased publication.
Watch as this site transforms over the coming weeks to take the Intimacies discussion to new dimensions.
Please tell us what you think of the book, the column or the meetings. Leave a comment below. (If comment form isn't showing below,  please click on the title of this post and it will appear in the new page.)

We've got an exciting lineup planned for programs in the first quarter of 2009. The events are sponsored by The Good Life magazine and all occur on the third Weds of each month, 7 pm at BookPeople.
In January, we'll be talking about "Love in the Recession" with my special guest, Claire Miner PhD.
In February, we'll be talking about "Reading Erotica" with author and former lit teacher Hapax Legomenon. (CANCELED)
In March, we'll be talking about "Playful and Spontaneous Romance" with improv coach and performer Shana Merlin. (CANCELED)
Start sending in your questions for these folks now.
Join The Good Life columnist Karen Kreps and special guest, Gayle Michaels, for a conversation about how to have more sexual energy and derive more pleasure from it. Gayle founded the Institute of Intimate Wisdom and has much to say about how diet and lifestyle choices can affect one's sexual prowess.
Meet the second Wednesday (not our normal night), November 12, 2008, 7 pm-8:30 pm on the third floor of BookPeople, 603 N. Lamar.  Audience members will be encouraged to share their personal experiences.  No charge, just   bring your sense of humor and an open mind.
To join the email announcement list for this group, send email to p2paustin-subscribe@yahoogroups.com.
This event is co-sponsored by The Good Life magazine and BookPeople.  For more information, see https://trueintimacies.com.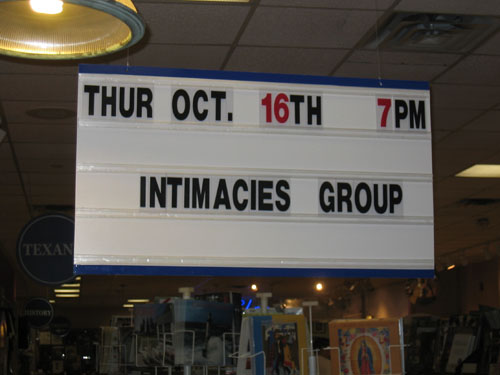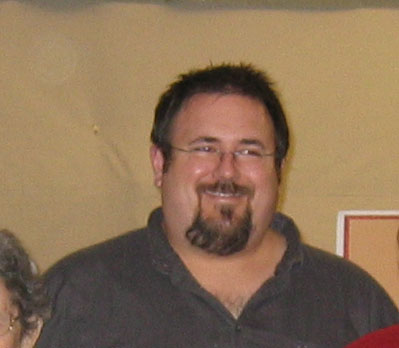 Frank Butterfield was my special guest at BookPeople, talking about "Attracting Love" with the Law of Attraction.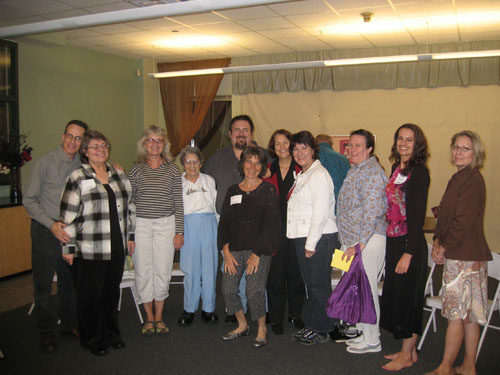 Some of the crowd that turned out for the event. As the host, I stand in the middle, in front of Frank.
The "Intimacies" Group that normally meets at BookPeople on the Third Weds of each month, is going to have some surprise changes for the next few months.
This month, we meet Weds Sept 17 to talk about Risky Love, but my special guest will be Kelly Ann Burnett, LMSW. She will be taking the place of Annette del Canto, who was originally scheduled. Annette has to be out of town for a family emergency, but the talk will go on with her colleauge, Kelly Ann Burnett, who specializes in
(1) increasing assertive communication (which often leads to vulnerability/risk taking, which in turn often leads to growth within the relationship); and (2) increased self awareness of reasons for avoidance of emotional risk taking and a subsequent choice to take the risk or not (with a focus on increased self understanding, even if the risk is not taken.)
In October, BookPeople has asked us to alter our regular schedule. We'll meet THURSDAY, Oct 16, and Frank Butterfield will be my special guest for a discussion of Attracting Love. Frank is a channel and intuitive who coaches clients and groups on harnessing the power of the Law of Attraction.
In November, we'll meet on the second Wednesday, not the Third. On Nov 12, please join Gayle Michaels of the Institute of Sexual Wisdom and me for a discussion about how to keep your sexual energy strong.
In anticipation of the Sept 17th event at BookPeople, please send me questions for Annette del Canto, LMSW and Kelly Ann Burnett. The two therapists will be talking with the "Intimacies" Discussion Group about risks we take in romantic love.
Please share with us what you feel are some of the risks you encounter in your relationships. Are they things you avoid or are you drawn toward the risky behavior? Do many of the risks you face involve communicating some truth about yourself (such as how you feel about your partner or yourself, positive or negative)? What's happened when you've taken a risk? Did you live to regret it, or was it a freeing experience?
 I  encourage you to subscribe to my blog so you can read updates to this blog through your email. The blog always has announcements and news about upcoming meetings of the Intimacies Discussion Group at BookPeople—and MUCH MORE:  You'll get to read comments and questions about  matters pertaining to "Intimacies" that are great for provoking new thoughts, conversation and behavior. There may even be some video messages.
To subscribe, just enter your email address in the form field on the right side of https://trueintimacies.com/wordpress. You'll spot it a couple of inches below my photograph.
When you opt-in to subscribe to my blog–and when, and only when, I post something new on the blog, you'll get a daily digest of the new content. No new posts, no extra email. It's FREE and it's fun.
Alternately, if you don't want to get email update everytime I update the blog, but you would like to get ONLY announcements about the meetings at BookPeople, you can join the Yahoogroup to get those email reminders. Reminders are sent 10 days and 1 day in advance of the event. To sign up for that, look for the purple button below the blog subsubscription form.
I hope you'll spurn the Yahoogroup in favor of signing up for the juicier blog subscription. In any case, I hope to see you Sept 17 at BookPeople, when we'll be talking about "Risky Love."
For August, the  "Intimacies" Discussion Group is taking a break. Our next public meeting with be Wednesday, Sept 17, 2008. The subject:  "Risky Love."
Join The Good Life columnist Karen Kreps and two special guests, therapists Annette Del Canto, and Kelly Ann Burnett,  for a conversation on the potential pay-offs of rocking the boat and taking emotional risks.  Learn how the ability to be intimate with others goes hand-in-hand with one's ability to care for oneself. Annette offers psychotherapy couples and individuals in all phases of relationship.
Meet Wednesday, July 16, 2008, 7 pm-8:30 pm on the third floor of BookPeople, 603 N. Lamar.  Audience members will be encouraged to share their personal experiences.  No charge, just   bring your sense of humor and an open mind.
This event is co-sponsored by The Good Life magazine and BookPeople.
In response to the announcement about the upcoming "Intimacies" Discussion Group on Open relationships with author Jenny Block, I got this email:
"Interesting topic.

"One word-nerd suggestion:  perhaps note then that the original Open Marriage book advocated freedom in interests and communication, but not sexuality?  At least that's my recollection from reading it, -years- back.  My thought is that the author's intended meaning/vocabulary has shifted in popular culture, to including, perhaps even being primarily interpreted, as multiple sexual/emotional relationships.  At least "show and tell" the old book's cover could be an interesting beginning to "class" <g>.  Thoughts?

"best,

(name withheld on request)"
I asked Jenny for a response and she sent this:
 "Thank you so much for your email. The book you are referring to, "Open Marriage" by Nena O'Neill and George O'Neill, was indeed much more about freedom in terms of communication, interests, and maintaining one's individuality within a marriage. It does, however, devote one chapter to the subject of sex. In it, the O'Neills say some wonderful things about jealousy being a "learned response" and presumed sexual ownership of a partner being the demise of many a marriage. They explain that "Man (and we mean both sexes) is not sexually monogamous by nature." Indeed! That doesn't necessarily mean they prescribe non-monogamy. "We are not recommending outside sex, but we are not saying it should be avoided either. The choice is entirely up to you…Outside sexual experiences when they are in the context of a meaningful relationship may be rewarding and beneficial to an open marriage." In other words, to each their own. The bottom line is this: People deserve happy marriages and marriage shouldn't be the one-size-fits-no-one convention it in many cases is. So, yes, I do believe this book would be an excellent conversation starter and I have plans to bring my copy along with me to the event. As for the vocabulary, that is indeed a problem. I chose the expression open marriage because it seemed like the lesser of the evils. We aren't swingers. We weren't poly then. Though I would describe myself that way now. So, open marriage felt like the best fit. It allows for a number of different permutations, which is exactly what I think marriage in general should do."
Seems to me that the issues haven't changed since the book by the O'Neills came out with their book in 1972, but the conversation about it is now more candid and direct.
Any more comments or questions in advance of our discussion on July 16? Foreplay's good.