Brene Brown studies human connection — our ability to empathize, belong, love. In a poignant, funny talk at TEDxHouston, she shares a deep insight from her research, one that sent her on a personal quest to know herself as well as to understand humanity. A talk to share.
Thanks to Leighton Hodges, a retired thereapist who had been one of my guests at the "Intimacies" Group when we met at BookPeople, for showing this to those of us who recently attended his engaging "Sex in the City" conversation group.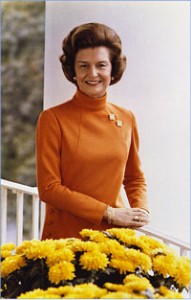 Giving voice to topics that are taboo is what made Betty Ford an inspiration for a generation. She was first lady of the United States from 1974 to 1977, during the presidency of her husband, Gerald Ford. Active in social policy, she shattered precedents as a politically active presidential wife. With her passing, comes remembrances of the paradigm shift she created.
Betty Ford's comments weren't the kind of genteel, innocuous talk expected from a first lady, and a Republican one no less. She spoke openly about breast cancer, when mention of a mastectomy was normally only whispered in private. The publicity helped bring the disease into the open and inspired countless women to seek breast examinations. Her revelations about her own own descent and recovery from substance abuse lead to the founding of the Betty Ford Center, which has helped celebrities from Elizabeth Taylor and Johnny Cash and yet keeps its rates relatively affordable and has served more than 90,000 people.  She was a powerful advocate for women's health and women's rights. She spoke openly of how living together before marriage might be wise, and she said she wouldn't be surprised if her daughter had had pre-marital sex. When I was coming of age, she was a role model whom I took to heart.
I was invited to speak this Sunday at the Public Affairs Forum at the First Unitarian Universalist Church of Austin   – 4700 Grover Avenue  Austin, TX 78756, (512) 452-6168. Forums start at 11:30 and last for one hour.
I expect to have fun and hope you will join me.
Here's the program announcement:
Karen Kreps is Austin's own version of Carrie Bradshaw, Ann Landers and Dr. Ruth. She is the author of Intimacies: Secrets of Love, Sex & Romance. She'll share recollections and anecdotes from her seven years writing candid explorations of personal relationships, which appeared in a popular column published by The Good Life magazine (until the publication folded last year), and hosting public discussions about lovers and lust at BookPeople. She will address people's Number One questions about relationships and encouraging audience questions and comments. No charge, just bring an open mind and a sense of humor.

June 13, 2010
11:30 am to 12:30 pm
4700 Grover Avenue
Austin, TX

Submit your Number One question and learn more about her book at TrueIntimacies.com

Karen has a Master of Arts Degree in Cinema Studies from New York University and works as an independent producer of creative web content, blogging about technology and social media at NetIngenuity.com
Twitter: For those who would like to Tweet about this event, the hash tag is #intimacies
The talk  will be broadcast on ChannelAustin, channel 10.  (Public Access TV), http://www.channelaustin.org. The times are TBA. I expect to get a copy of the recording and will post it on the web for remote viewing.
This film was co-written/produced/directed by Jane Scandurra, a fellow alum from Prodigy, where I worked for six years until I met my husband and followed him from New York to Austin. It's about the growing population of single adults in this day, but I wish I had seen it back then, when I was single. It might have helped me feel more indepedent and legitimate as a single woman.
Behind closed doors in a nice South Austin neighborhood, fourteen strangers crowded into a small livingroom for a three-hour workshop on how to give a woman a sensual massage and make her feel safe and relaxed and fully surrender.
There were seven single men and two single women, including four couples, ages ranging from 27 to 77. Everyone seemed relieved to find a congenial group of normal-looking adults who were genuinely interested in learning and excited by the potential that the workshop promised.
Charla Hathaway, an erotic coach and author of the book, Erotic Massage: Sensual Touch for Deep Pleasure and Extended Arousal, welcomed everyone and explained the structure for the afternoon. There'd be an hour of introduction and discussion about sensual massage, followed by a demonstration (back, front and genital), and a wrap-up talk. She introduced herself and her model, on whom she would later demonstrate. The model was an attractive and charming young woman, totally at ease with nudity. She explained that she has been studying erotic arts in California and was very much looking forward to the massage she was about to get.
Charla put everyone at ease, elevating the energy with spiritual discussion of Tantric arts and respect for the human body. A high level of trust was established. She got everyone to share openly about what they wanted to let go of as they entered the class, what they wanted to bring into the experience and what they intended to get out of the experience. There were seven single men and two single women, including four couples, ages ranging from 27 to 77.
By the time everyone entered the massage room, circling around the table, there was so much respect in that room–between the students, to the model and teacher and for each our bodies.  There was a shared sense of privilege to be privy to a very private, intimate affair, to be welcome to simply watch and or to try a couple of techniques on the model while under the careful guidance of the coach.
Charla demonstrated used of props like feathers and fur, cornstarch (yes, from out of the pantry) and oil to soothe and relax all the muscles. She got every to breathe in rhythm with the model as she explained and the model confirmed what where the most pleasurable strokes and approaches.  As genital strokes were demonstrated on a live person, everyone asked respectful questions and the women shared their experiences and preferences. No massage was ever too slow. Breasts could never be massaged too much, but the nipples should be touched last. Asking permission before penetrating your lover's body in any way was only decent.
While only the model got the massage, everyone present was touched and opened in new ways that would affect them for the rest of their adult lives.
–Karen Kreps is the author of Intimacies: Secrets of Live, Sex & Romance, and blogs at TrueIntimacies.com.
This just-released video was shot at SXSW09 Interactive. Paul Walhus interviews Karen Kreps about the Core Conversation she was about to host at SXSW on  "Sex Ed Online: How Teens Self Savvy," her background as a Web developer and the Austin lifestyle she enjoys.
Link:
After a hiatus following the news that my publisher had gone out of business, I'm getting back into blogging about Intimacies. I'll be cross posting to an exciting new online venue, AustinPost.org. Following is my intro article:
"Why, you're the Carrie Bradshaw of Austin!" More than a few people said this when I told them that I wrote about "Intimacies." I was clueless about the heroine of "Sex in the City," since I didn't watch much television. Eventually, I caught on. While I didn't have Carrie's stunning wardrobe or her lavish lifestyle, I did—for seven years—write a magazine column about love, sex and romance. I also hosted monthly meetings in Austin at BookPeople, where scores of singles and couples met to openly ask about and share tales of intimate experiences normally restricted to the privacy of the bedroom. I published a book, Intimacies: Secrets of Love, Sex & Romance.
So what made me a "sexpert"? As a single gal, I had been around but was not as promiscuous as Carrie's friend Samantha. As a married woman, I had learned how to make love last. Last week, my husband and I celebrated our seventeenth wedding anniversary. I have experienced earth-moving multi-orgasms, and I knew also how to fake them. I was no different from many women, but I didn't mind breaking a taboo or two. When it comes to sexual secrets, I have asked–and I have told.
Being the Carrie Bradshaw of Austin could be awkward. My photo was published in each issue of the magazine; I would meet strangers who thought they knew me. Did they think, "Oh, that's her! I know a lot about her sexual interests!"
I enjoyed having a good excuse to ask anyone, "So, how's your love life?" And I took notes on hedonistic behavior, seduction techniques, use of pornography, exhibitionism, polyamory and more.
The big turn on, however, isn't about explicit sexual content. It's about the more subtle interactions that occur between lovers and would-be lovers: the hide-and-seek, the courtship, caring and commitment—or the lack of it. Underlying all intimacy is communication that connects two entities as one. Connecting with another human being, intimately, is one of the great gifts of life.
Sadly, last January, my publisher suddenly went out of business. It was like losing a lover. But when one relationship ends, it opens the door for new ones. The AustinPost.com is replacing print, and blog posts from my own site, TrueIntimacies.com, will appear here. Share with me your Number One question about relationships, and I will send you a free e-book, A Dozen Choice Intimacies, and I'll take a crack at offering an answer. In Austin, "Intimacies" thrive.
There's no finer place to catch a few rays and perfect your line-free tan than Hippie Hollow on Lake Travis.
This bucolic area is a clothing-optional public park in Texas. When I mentioned that I liked going there, a friend asked if she could join me sometime. This was surprising, as she was going on seventy. She's gone skinny dipping with girlfriends, but has never in her life been any place like a nude beach. Her husband of fifty years and her grown kids applauded her impulse to venture out with me. We packed towels, chairs, lunch and plenty of sunscreen—but no bathing suits—and off we went.
It's a world away from the bustle of nearby Austin, a haven for those who wish to escape the rigors of modern life in a safe and comfortable nudist atmosphere. Hippie Hollow welcomes visitors from all over the world. The park of one hundred and nine acres features a steep, rocky limestone shoreline and provides some spectacular views of Lake Travis. Clothing optional means just that. You don't have to take off your clothes. Plenty of people don't. Only it feels a lot better in the water. And in the breeze. And in the sun.
On weekend afternoons, the rocks will be crowded with people sunning themselves with no inhibition, chatting, reading, snacking, and playing cards. Stroll past the second bathhouse and you're in the gay neighborhood. Everywhere people are friendly, unusually so. A community has evolved that stays in touch with a forum on www.hippiehollow.com. (You'll find directions and more information there as well.)
On that site, one denizen stated, "You can set up near others or tucked in a corner if you want to take tentative steps. As for body shape and level of attention, it's simply not an issue. Folks you meet will be friendly and they've seen it all before, and there's an infinite variety of people sun worshipping, swimming, relaxing and socializing. Just go ahead and get the first time out of the way, and you'll be hooked."
In my experience, there's less of a sexual charge on a nude beach because nothing is hidden. When we wear bikinis it says, "I'll show you most of me, but there are parts that I won't show you, are secret." But attitudes about being naked in public vary as much as the do the bodies on display: Rotund, lanky; with tan lines and without.
To see and appreciate the human form in all its variations is the main attraction, and some are forthright about it. One man, undressed and unnamed, says, "It's so rare to be able to be naked with other people. I like looking at people. It's stimulating."
For some, to be out in nature in one's birthday suit is only natural. "After any amount of time nude at the Hollow, I am loathe to put my clothes back on to leave," states Jimbo9, moderator of the HippieHollow.com message board. "I hate it. I wanna be naked all the time, everywhere."
Others find it a liberating challenge to disrobe. Gene recalls: "I used to think it was bad for a straight guy to go alone to a nude beach because I thought that people would think you were there just to gawk. Not so it seems. I felt so free taking my clothes off for the first time and nobody cared."
Some worry about running into people they know. The first time we came there, my husband met a guy he used to work with at IBM.
Hippie Hollow used to be owned by the McGregor family and was legally a nude beach because it was on private property. When McGregor died he willed the land to Travis County, provided that it always remains a clothing optional beach. If the county ever tried to close it down, it would lose title to the property. The county makes far too much money on admission fees to do that.
At Hippie Hollow sexual activity is not just rude, it's illegal. One can get ticketed, banned from the park, arrested or any combination of all three. Cameras are allowed, but it is a crime to take pictures without permission and for sexual gratification. This should catch a guy sitting concealed in the bushes with a telephoto lens, but should not affect couples or small groups of people openly and knowingly taking pictures of each other.
My friend was delighted by her first experience. She said, "It's so freeing to be able to go in the water without anything on. It feels great to take a walk wearing nothing but a sarong and nothing underneath. I was glad you suggested I bring a sarong. They're perfect when you want to cover up without effort."
She said she'd have come much sooner, but she couldn't find anyone with whom to go.
Jimbo9 states, "Hippie Hollow is perfect for showing up alone. After one gets comfortable with being a single party, then one begins meeting people. Meeting people in order to go to the Hollow is much more difficult."
On our weekday morning visit, my friend and I found ourselves almost the only women there. When we showed any receptivity, men were quick to come over and chat. All left when we wished them a good day and said goodbye.
A couple of creeps made pests of themselves by walking by us repeatedly and too often saying hello. Pathetic! We'd have had a better time with more mixed company. Creeps who go there only to gawk can be real deterrents, but my friend laughed when she saw the lineup of boats motoring just beyond the buoys that rope off a swimming area. She said, "I hope they're enjoying themselves half as much as we are."
Omar Gallaga is the technology columnist for the Austin American-Statesman and National Public Radio. He wrote a big article about people who self publish last Easter, which featured me and my book.  Now he's blogged about the Core Conversation I hosted with Karen Rayne at SXSW. Catch his drift on his blog at austin360.com
.
Here at SXSW09 Interactive, Melisssa Giri interviewed Karen Rayne and myself about the Core Conversation  we'll be hosting 5 pm in room 19B at the Austin Convention Center.
Here's a bit of what I said to Melissa: "The Internet is creating a paradigm shift in traditional sex ed. It throws open the window on sexuality and intimacy, democratizing access to new levels of understanding and skill. Just a few generations ago, the ancient teachings of Tantra Yoga were secrets shared only with select initiates. Now all one have to do is Google it to learn. The Internet has spread new Sex Positive concepts and provided in-depth discussions of polyamory. We are no longer limited to only knowing what Mommy and Daddy knew and told us about the birds and the bees or books we could find and read in private. We can learn about how other people make love, broaden our experience from the safety of our homes without risk, and adapt as much as we please in our personal lives."
See the links we suggest on the topic of Sex Ed Online.