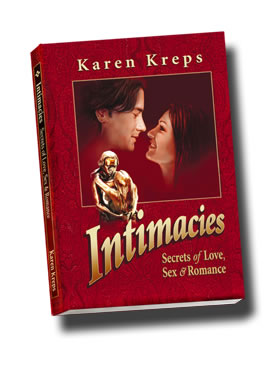 Intimacies: Secrets of Love, Sex & Romance,
by Karen Kreps,
with illustrations of sculpture by Arye Shapiro
and book design by Rebecca Price.
ISBN 978-0-9797890-0-7
How to find, enjoy and sustain successful, stimulating romantic relationships is the focus of dozens of selected writings originally published in The Good Life magazine. This collection includes personal essays, how to advice, reports on trends, explorations of human behavior, and the accounts of many people who shared their real stories of love, sex and romance. Each article is categorized by the subject matter it contains (love and romance, sex and sexuality, commitment, and money) and for whom it may be relevant (singles and couples).
The mission of the author is to share stories about love, sex and romance that inspire adults to think in new ways and communicate openly so as to enjoy more fulfilling personal relationships.
For seven years, Karen Kreps wrote the "Intimacies" column for The Good Life magazine and hosted the related public discussion group that met monthly at BookPeople, an independent bookseller in Austin, Texas.
The 196-page book contains a collection of her columns and is illustrated with photographs of figurative sculpture by the author's husband, Arye Shapiro.
For more information, please contact the author, karen at trueintimacies dot com.
Here's what the experts are saying about what lies between the covers:
"The secrets of love, sex and romance must come from those who do not guard them selfishly, and Karen Kreps's collection of articles is a remarkably open-hearted series of revelations. It is reassuring that the positive aspects of connubial life are as fascinating as the downsides of our mating experiments, at least with this author as articulate guide. She makes true love seem as elementary as basic arithmetic she knows, too, that love is a complex and infinite miracle. We may discover how to embrace it if we have the right wisdom, and Karen Kreps generously inspires us with her vision."—Avodoh K. Offit MD, author of The Sexual Self, Night Thoughts: Confessions of a Sex Therapist, and Virtual Love.
"Karen beckons the many muses at her disposal-ordinary people and experts-to guide us through inner vulnerability to a loving place where we connect with others. Woven through her verbal tapestries are sentimental stories of families, insights about sexuality and resources to take courting to the next level. Relationships are the essence of our humanity, and Karen invites us to enjoy them in ways we might never have imagined."—Larry Bugen, PhD, therapist and author of Love and Renewal: A Couple's Guide to Commitment
"Her writing entices readers along paths of erotic fantasy and desire to find fulfilling relationships."—David A. Crump, the Essential Experience workshop, ee.org
"Intelligent, candid and informative; a valuable service in a complex area of concern."—Drs. Marshall and Marguerite Shearer, www.docshearer.com
"Karen's columns are very insightful on the nature of our most important relationships. She has given me ideas to keep my marriage of almost 20 years on a stable footing. And were I single, I'd find her advice on starting new relationships equally practical."– Jeff Johannigman, President of People Type Consulting
"Karen Kreps' stories of love and life are vivid and touch your soul. Her writing will inspire some to think more deeply about relationships and possibly value what they have even more! "—Dr. Robyn, www.drrobynphd.com