Video blogging and intimate wisdom with Gayle Michaels
I met Gayle Michaels of the Institute of Spiritual Wisdom, when she was my special guest at BookPeople a couple of years ago. She talked about introducing the world to sacred sexuality. Two days ago, she introduced me to video blogging, as she interviewed me about my book for her blog.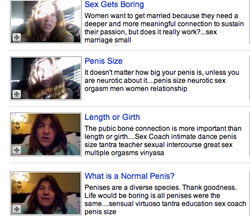 Gayle has made a series of terrific videos in which she speaks explicitly about improving your sexual experience. Look for the SensuousVirtuosa on YouTube.com. She pulls no punches, sharing what she knows about superior penetration technique, circumcism, penis size and how to prevent sexual boredom. I'm going to invite my husband to take the class in The Intimate Dance she's to teach next month . It's open to singles and couples.